December 11th Glendale Holiday Parade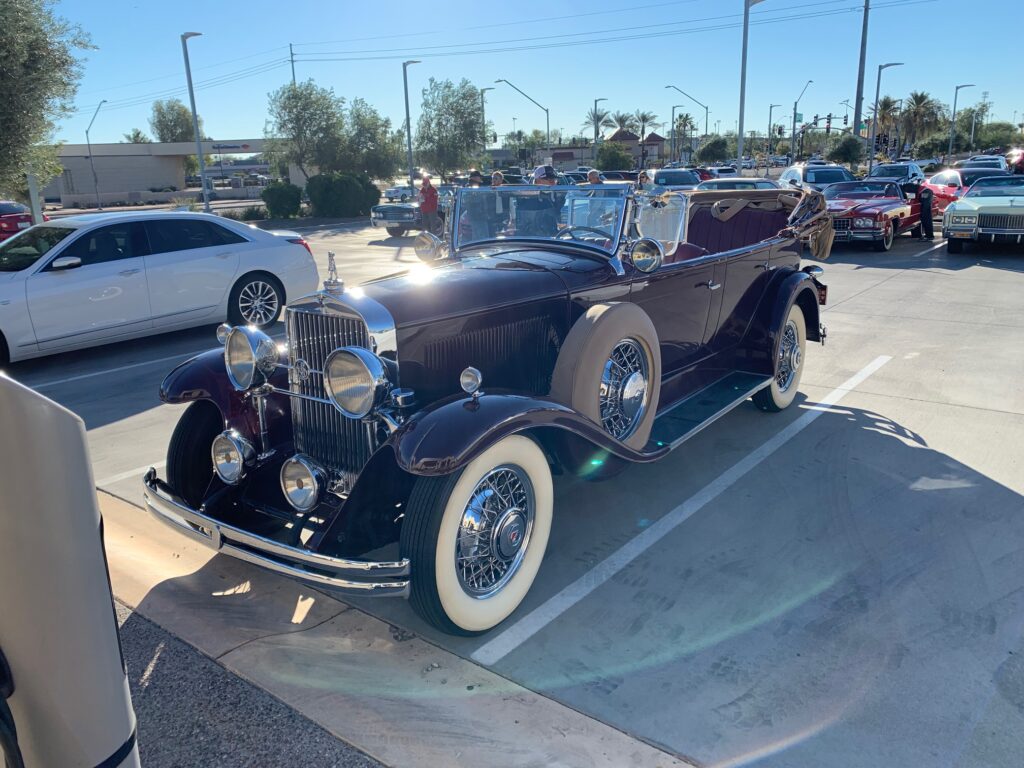 December 4th, 2021 Charity Pavillions Show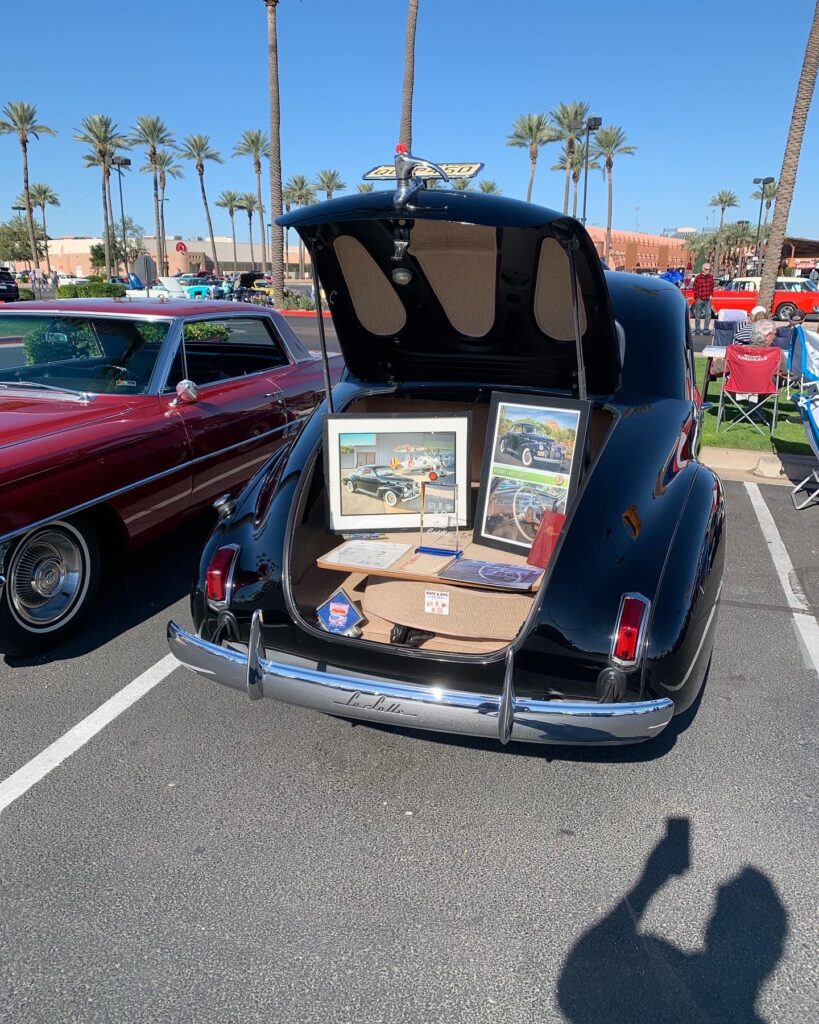 NOVEMBER 2021 MEETING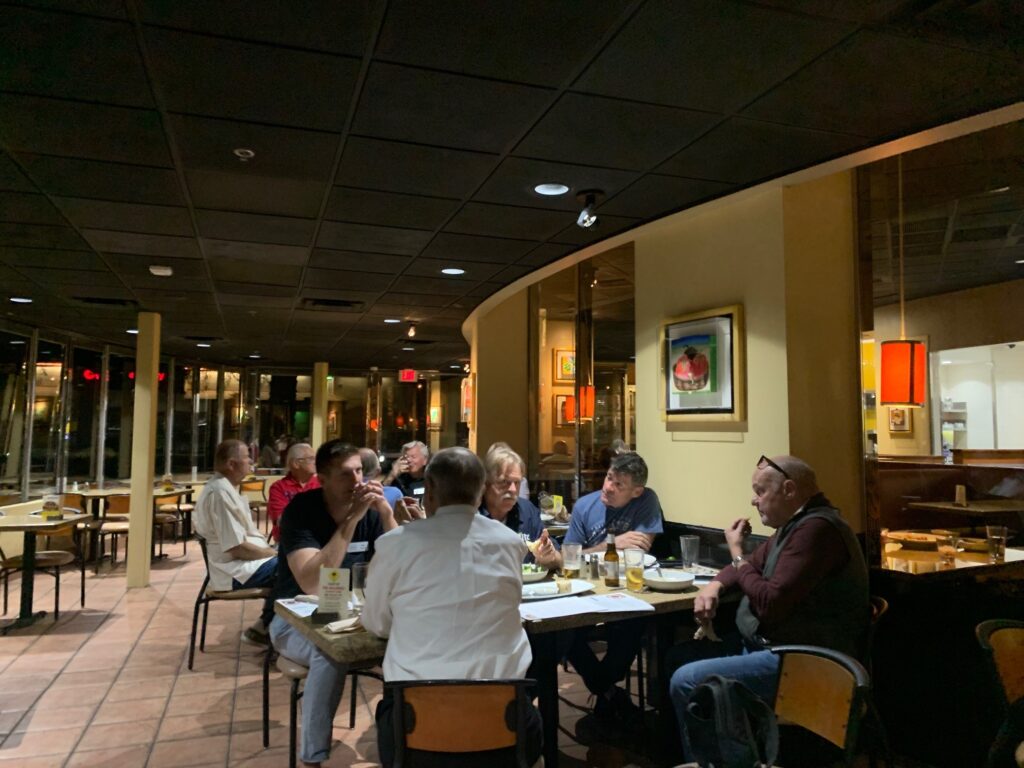 HIGHLINE AUTOS CARS AND COFFEE 11/6/21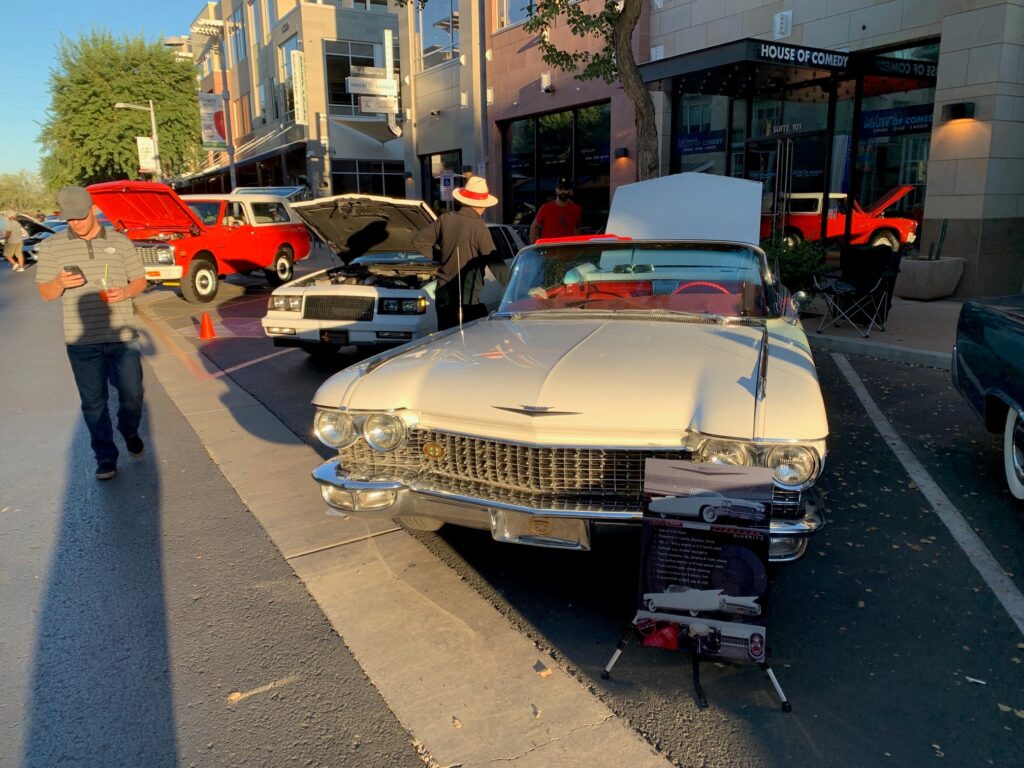 DON LAUGHLIN'S RIVERSIDE CASINO BY BOB GROVES 10/21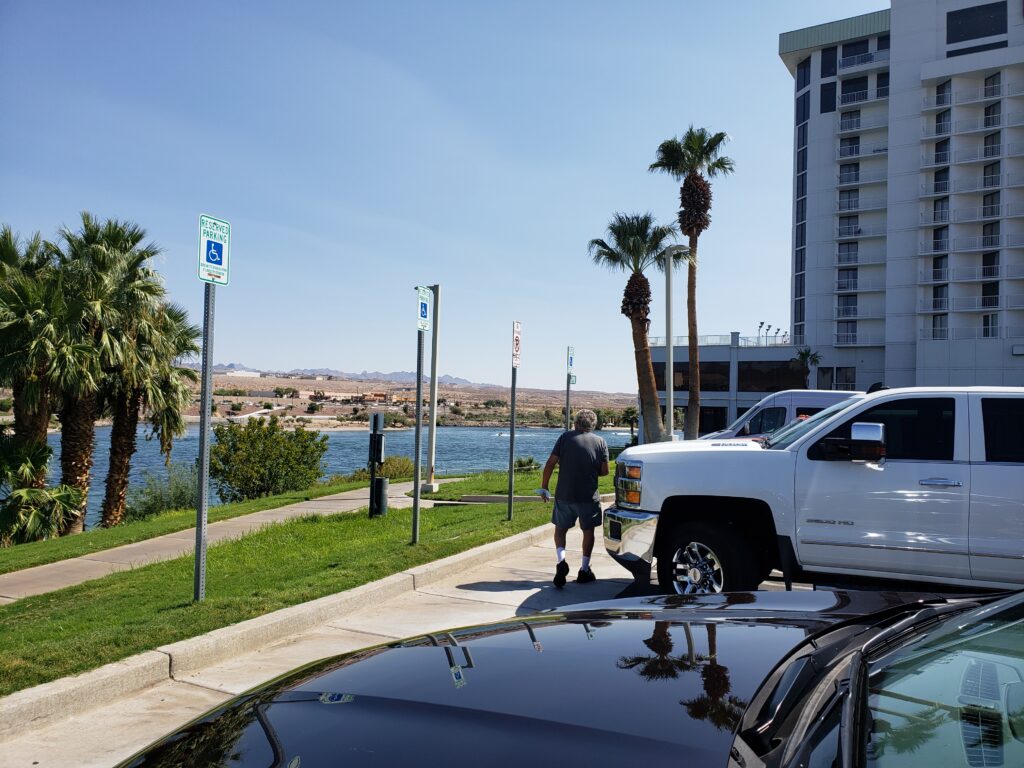 GILMORE CAR MUSEUM BY BOB GROVES 10/21 NON CLC BUILDINGS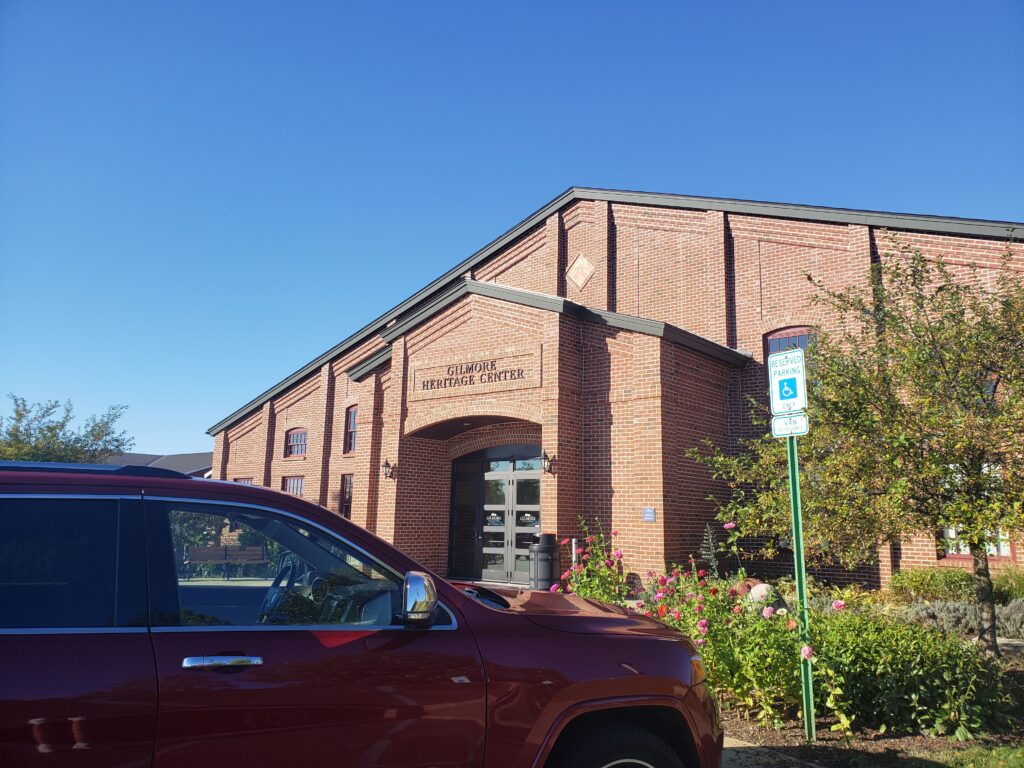 GILMORE CAR MUSEUM CLC BUILDING BY BOB GROVES 10/21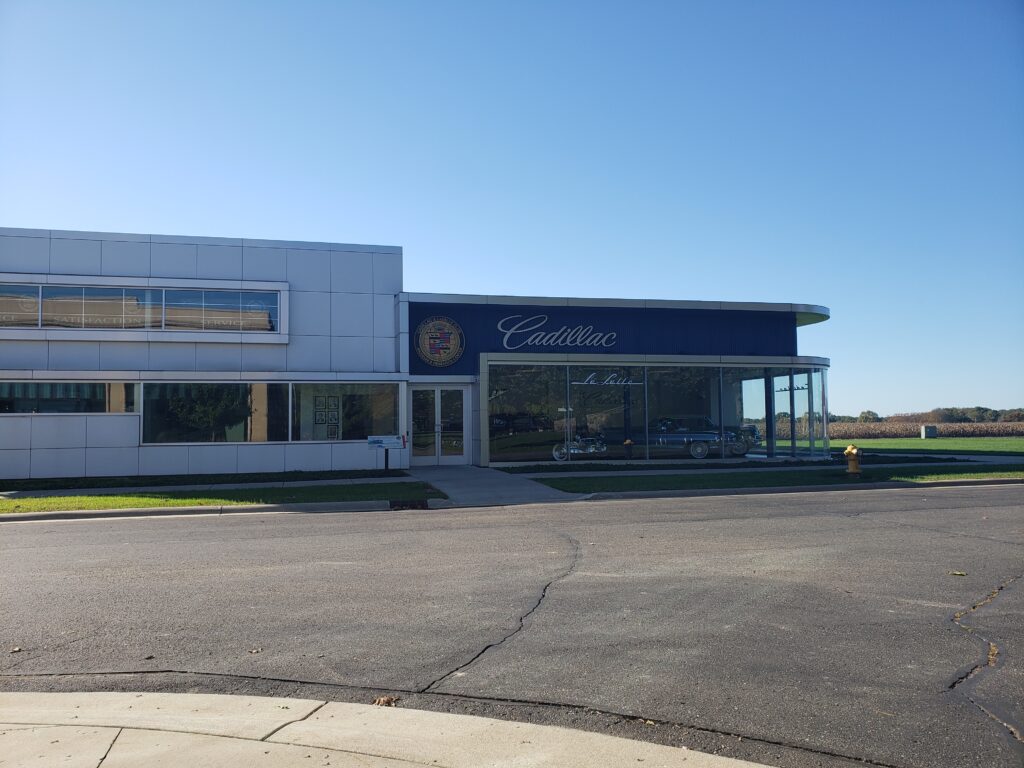 HERSHEY AACA CAR SHOW HERSHEY PA BY BOB GROVES 10/21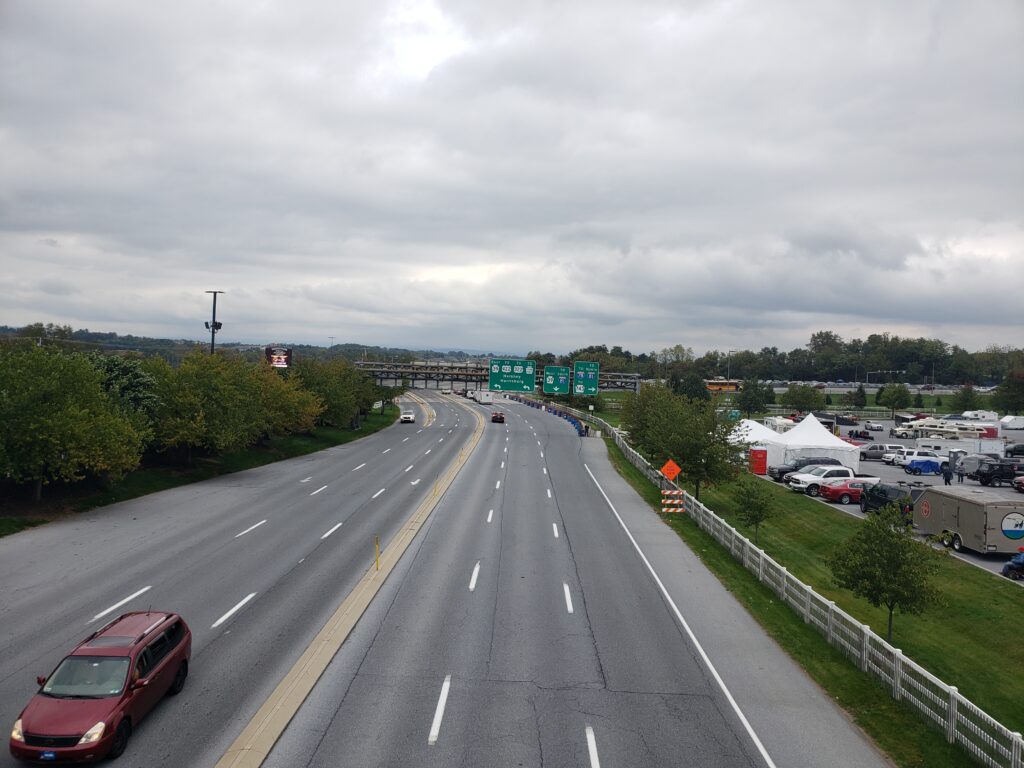 CARLISLE CAR SHOW CARLISE PA BY BOB GROVES 10/21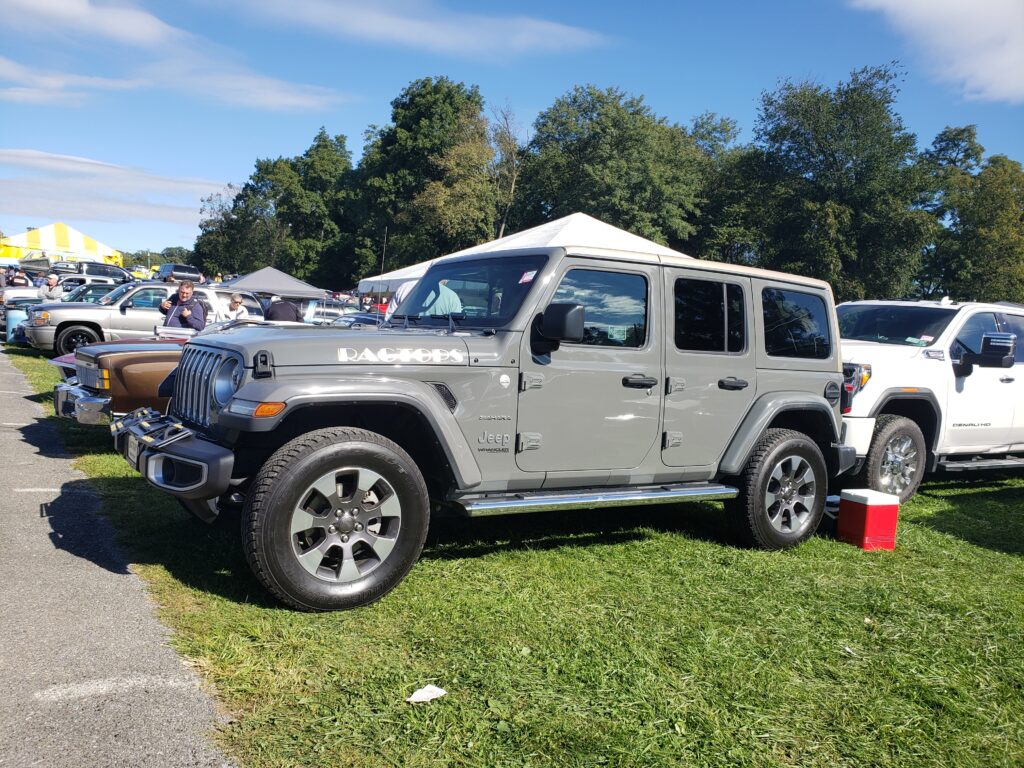 Pioneer Auto Museum Murdo South Dakota by Bob Groves 9/21-10/21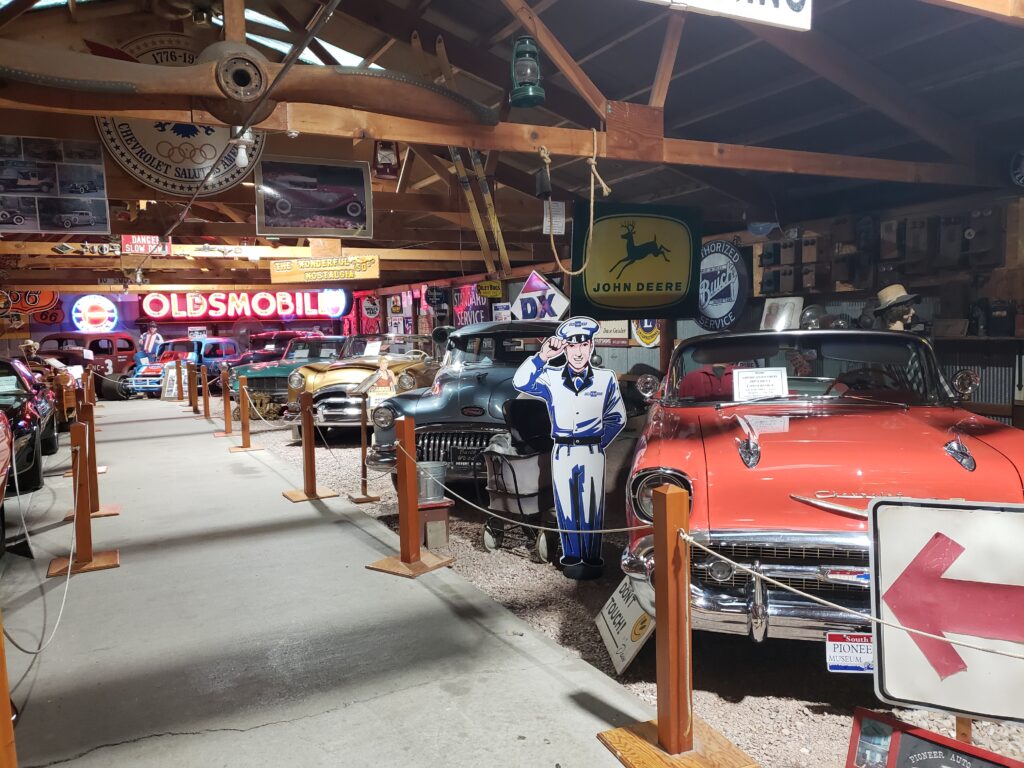 Hollywood Car Museum by Bob Groves 9/21-10/21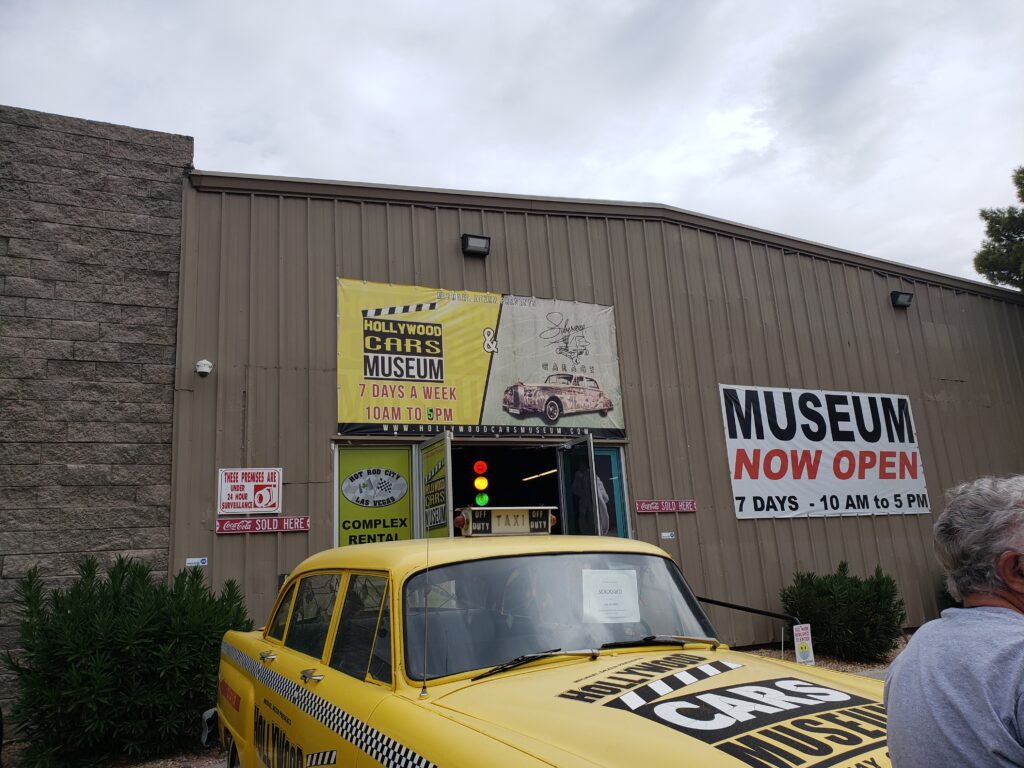 Vincent's Non Meeting Meeting 8/28/21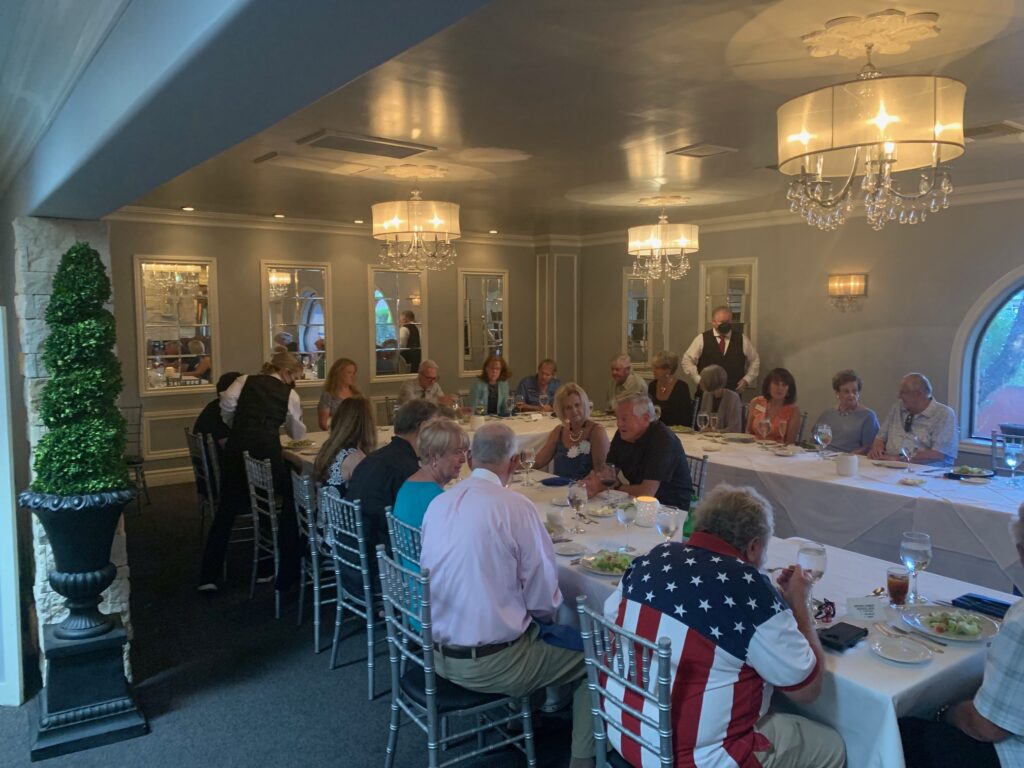 SITTING ON THE CORNER IN WINSLOW ARIZONA BY PHIL TERRY 10/21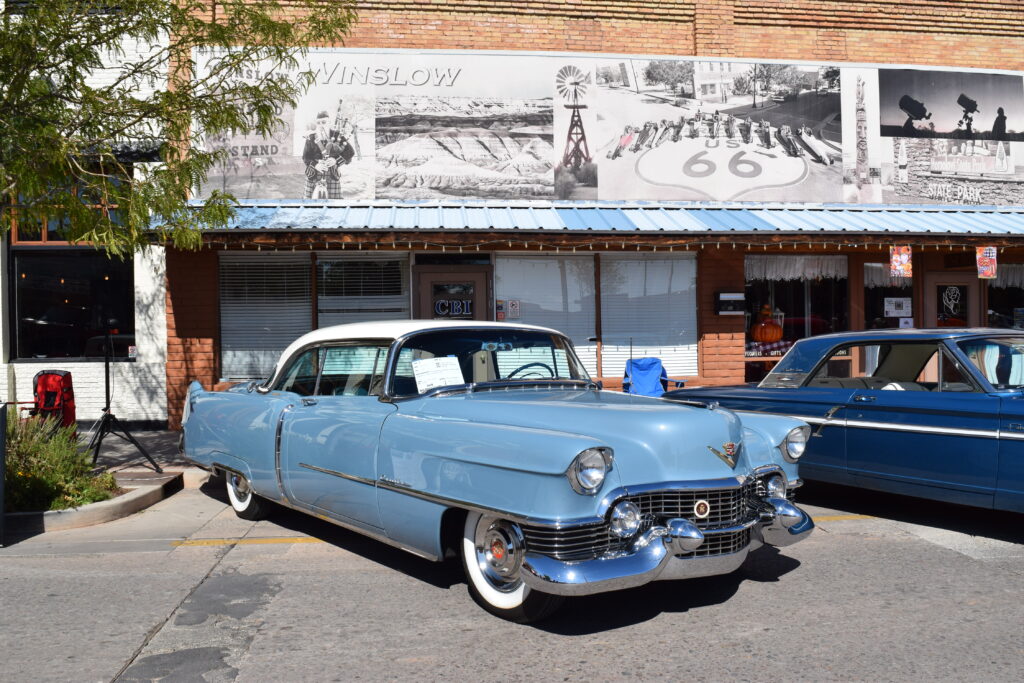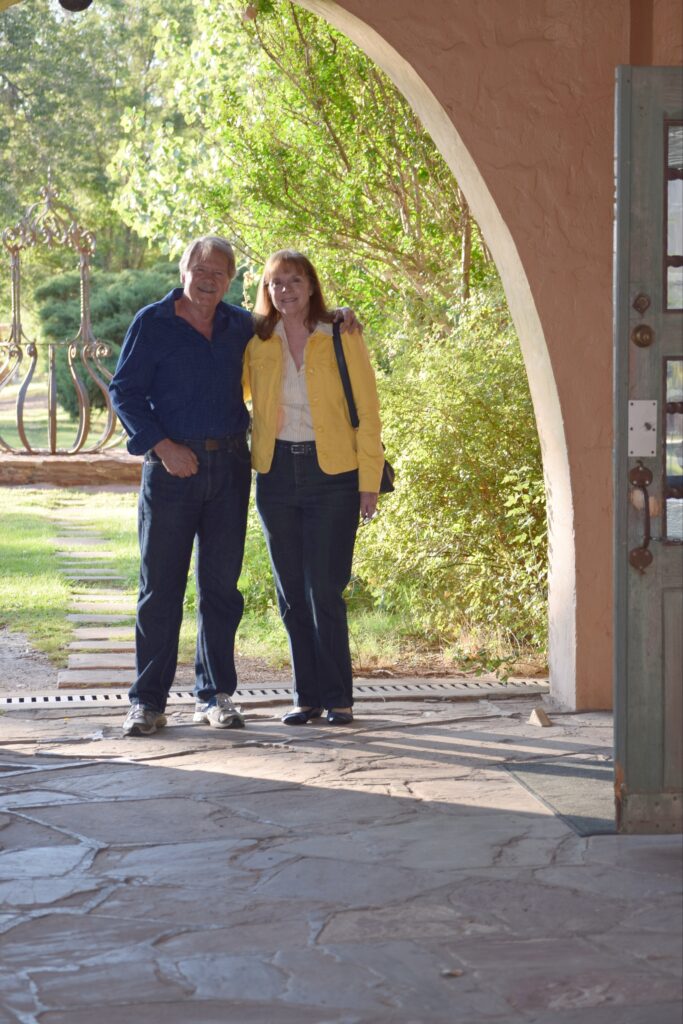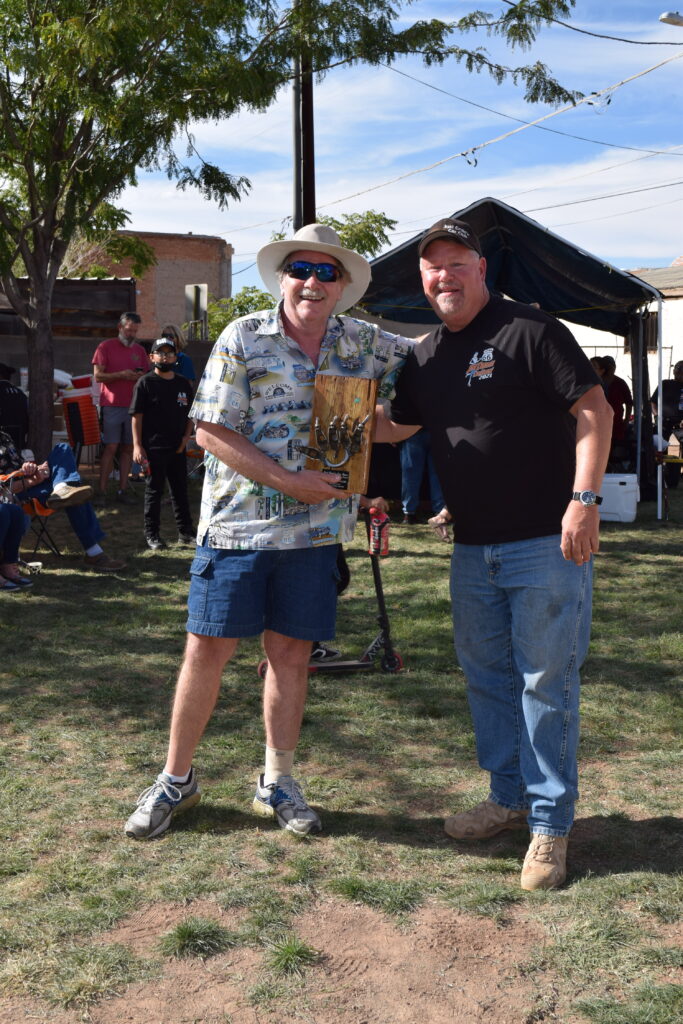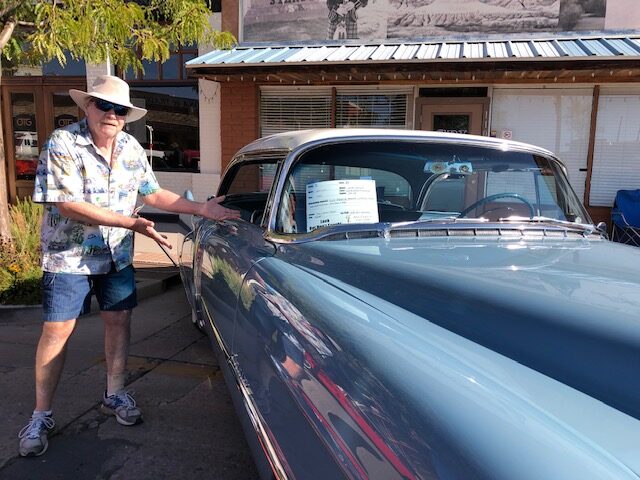 10.21 " Standin' on the Corner" car show in Winslow AZ
We wake up Friday morning to a chilly 36 ͦin Pinetop. It will be warmer in Winslow as the elevation is
much lower. The '54 is cold and shifts hard for the first few miles. We head to the meetup in Show Low
on a hilly rural two-lane road that changes from Ponderosa pines to Pinion and Junipers. At the top of a
hill, I see the biggest elk I have ever seen. "Sandi 2 o'clock", she gasps! This stag is a ½ ton if he is a
gram. Those backstraps (tenderloins) would feed us filets every Saturday night for two years. His rack is
easily 8 feet wide! He only needs three leaps to commit a double homicide and destroy a nice old car…
Instead, he bellows and snorts a cloud of exhalation as we pass. Whew!
We roll into the Maverik for fuel, food, coffee and a warm pit stop. Maverik is to the west what Wa-Wa
is to the east. We pass through Taylor, Snowflake, Holbrook and get on the I-40. The land of overloaded,
underpowered RVs who feel the need to pass overloaded, underpowered semis. Then we stop at the
Pilot truck stop for a banana, my favorite road trip snack. The White Mountain Cruizers have saved us a
prime spot and we park on old Route 66 in downtown Winslow. We wipe off the car, have lunch at a
local diner and check in to the La Posada Resort. It's a remodeled Santa Fe Railroad station with lots of
history. Designed by Mary Coulter as a Harvey House serving the rail travelers, it is beautiful with a
great restaurant, the Turquoise Room. Our room is ready @ 3:00 and we check in for a shower and a
short nap. We have a 5:00 reservation, knowing the dining room will be busy on a car show weekend.
They specialize in locally sourced foods, so we split a caprese salad followed by elk tenderloin
medallions. Now that's irony!
The evening brings out the hot rods and race cars for a "Cacklefest" and Burnout Contest. The cloud of
burnt rubber engulfs the town. On Saturday morning, we head back to the restaurant for the Union
Station breakfast before returning to the show. It's an entrant judged show, with 200 cars and 30
classes, so that effort takes up most of the morning. For lunch, we head back to the Turquoise room for
some pork carnitas. Things wind down and the awards startup. There's nowhere to sit, so we are
standing on the side with several others we don't know. We get the "BEST INTERIOR" trophy. It' s
Steampunk art created by a member of the host club. Made from wood from a 1920's garage that was
recently torn down, it features a bear claw fabricated from Chevy rockers, a 426 Chrysler hemi rod cap
and bolts from the "Ragin' Cajun" Fuel Altered, parked across the street. The fasteners holding the claw
to the wood are Santa Fe RR track nails dated "30" and "66". We also take first in class and receive a
Lucite plaque. The couple standing next to us decide to take off and gave Sandi their 50/50 raffle
tickets. I walk back to stow the awards in the trunk. When I stroll back to the ceremonies, Sandi is up at
the front of the stage talking to some ladies. A couple of youngsters tell me she just won the 50/50. We
usually enter every show raffle and don't expect to win. We do, however have a pact that if we ever
won, we would give it back to the charity, less the original investment amount. So she gave it to Alice's
Place, Winslow's women's domestic violence shelter. More irony..….Alice was my late Mother's name.
We stop for fuel and run into Julie, Tom and Martha Ferran's daughter from Cave Creek, who is sporting
an award for her old Ford Truck. The trip home was flawless and the '54 ran great! 80 MPH on the I-40
and 14 MPG with the new®ͦEFI !!